About Me...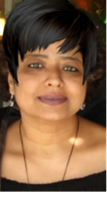 I am a 45 year old bohemian artist wanna-be living in beautiful Greenup County in Northeastern Kentucky with my husband of 27 years, 3 boys - twin 17 year olds, a 21 year old, and a black lab retriever named Satchmo. I was born in Madras (now Chennai), India and came to the United States when I was 7 years old. I grew up in Cincinnati, Ohio, went to Springdale Elementary School, Princeton Junior High and Princeton High School. I graduated in 1983. I went to Marshall University in Huntington, West Virginia where I received my BA in Political Science.
I have always loved graphic design and art. I probably inherited this from my artistic mother and grandmother, and aunt. I've been on the Net since the days when there wasn't even a real browser available. I love the information available and read and read and read at every chance about everything you could possibly imagine.
I incorporated this business a few years ago and added other websites as well. My newest venture is into podcasting, blogging, vlogging (video casting) and RSS feeds. This is a lot of fun - and, I believe the future of the web - more video, my sound, more interactivity and ways to express yourself.
Writing is my other great love. I have written articles, poems and short stories - many published in the small press and magazines. I worked briefly as a political columnist and then as a business writer for the Ashland Daily Independent during my years at Marshall. I also worked as a Technical Editor for Macmillan Books for the Sam's "Teach Yourself Microsoft Publisher 98" book by Ned Snell. Books are my biggest vice. I have over 3,000 in my house falling out of every room, closet and shelf. (My grandfather had a small library on the beach and was an avid reader as well.) I have also published a book for Prentice Hall Professional called Podcasting for Trainers and Teachers, and Brainy Betty backgrounds have appeared on the CDs included with both of Faith Wempen's Point Bibles - available at Amazon: PowerPoint 2010 Bible
So, that's about it. You can always write to me here. Have a productive day! And remember, please bookmark this site and let a couple of friends know about it as well! I'm sorry I generally cannot respond to emails for individual PowerPoint template work or assistance. I work alone and this is a one woman business!
Here's my LinkedIn profile.

---
Microsoft ® PowerPoint, Microsoft ® Word, Microsoft ® Outlook and Microsoft ® Excel are registered trademarks of Microsoft Corporation in the United States and/or other countries.
All other trademarks are the property of their respective owners. All content on this site copyright © 2013 Eclipse Digital Imaging - Owner, Brainy Betty, Inc. & its licensors. ALL RIGHTS RESERVED.